(25 january 2016)
GAPi Achterolmen, Maaseik, Belgium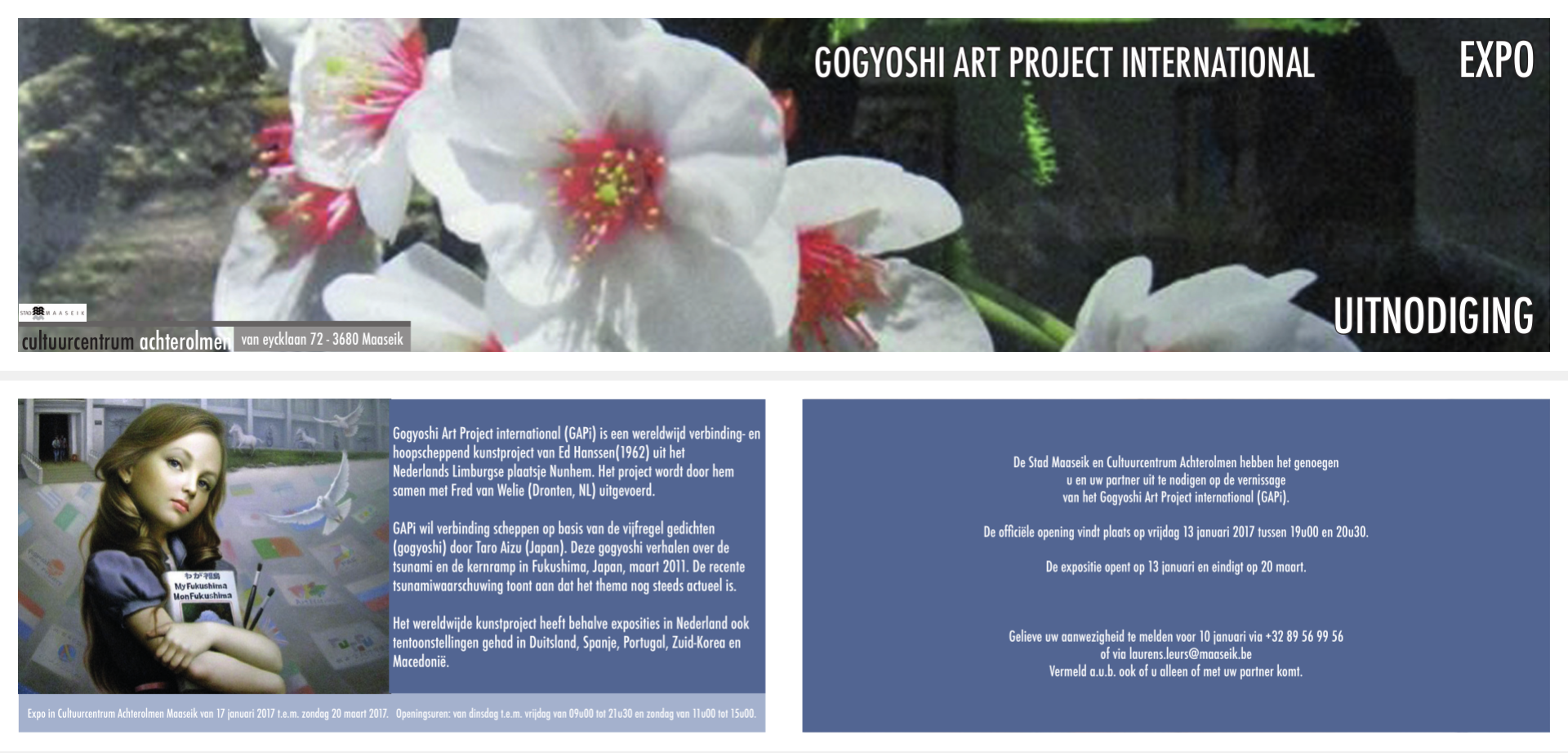 by Fred van Welie(WAV), Marianne Delmee,
Carmen Heemels and Ed Hanssen (c)2017
Scroll down to read the poems by participants.
V e r b o n d e n h e i d en H o o p / Solidarity and Hope, Fraternitť & Espoir.
Cultureel Centrum Achterolmen
http://www.achterolmen.be/
13january 2017 - 20 march 2017.
Message of participation with artwork:
All artists who will participate in the Belgium exhibition will receive message 10 july 2016.
Measurements Achterolmen exhibition spaces:
The big space downstairs is +/- 160m2
The big space upstairs is +/- 100m2.
In total we have +/- 66 metres of wall to fill with art.
The Heights of the walls differ: 2.20m(downstairs) to 3.20m(upstairs).
Week before 13 january 2017.
Call for poetry Maaseik residents and school(s).
Gogyoshi Art Project in CC Achterolmen, Maaseik, Belgium.
S O L I D A R I T Y and H O P E
One of the ideas in which GAPi(Gogyoshi Art Project international) wishes to express solidarity
and hope is by a call for poems. We call upon everybody who wants to participate, to write a
poem based upon "Fukushima after the disaster of 2011", and express their feeling of solidarity and hope. Or a related theme. Specificly we call upon the children and grown ups of the municipality of Maaseik, Belgium. Every poem we receive will be shown in the exhibition of GAPi "Solidarity and Hope", with artworks by
many international artists who participate within this project.
This exhibition will be held from 13 january 2017 untill 20 march 2017 in CC Achterolmen,
Poems(1 per person) hand in before 1 december 2016.
Hand in by e-mail: carmenheemels23@gmail.com.
Free of conditions(length, rhyme, form,..)
State your name and address, also in the description in the e-mail.
Gogyoshi Art Project int. is a non-profit artproject aiming to build bridges between
East and West by artmaking based upon the fiveline poems(gogyoshi) by Taro Aizu.
His poems from "My Fukushima"and "The precious earth" are the inspiration and they
tell about the consequences of the tsunami en melt down in Fukushima, march 2011.
Taro writes with almost photographic precision about what he sees, feels and thinks,
by which hope, love, simplicity and wonder become tangible.
GAPi wants to give hope, strenght and support to those who suffered from this disaster.
GAPi shows solidarity and respect.
GAPi already had many exhibitions in the Netherlands, Germany, Portugal, Spain, Brasil,
Macedonia and South-Korea.
In the Belgian exhibition several Belgian artists will take part.
The driving forces behind GAPi are Fred van Welie and initiator Ed Hanssen.
More info: https://www.facebook.com/groups/GogyoshiArtProjectint/ and
http://www.projectmailartbooks.com/documents/the_gogyoshi_art_project_gap.html
Both old and new work is possible.
In case of new work: base your artwork on poems by Taro Aizu as published in his latest publication : This precious Earth".
All (drawing, printing, painting, sculpture, installation, photography, video)
Send in a photo of the artwork or description of your idea before 1 july 2016
Between 1 november 2016 and 1 december 2016 to Ed Hanssen, Hoogstraat 29, 6083 AX NUNHEM, the Netherlands.
We will check out the measurements of all the spaces we can use for the exhibition. If more artists send in their work than can be shown Carmen Heemels en Ed Hanssen will have to select.
Shippingcosts (for sending and returning): the artists.
(19 january 2016)
It has been confirmed!!!!
Gogyoshi Art Project int. goes international once again!!!!
This time it is Belgiums turn.
4 weeks exhibition from half january 2017 untill half february 2017.
Carmen Heemels: thank you! Without you this wouldnt' have been possible.
List of selected artists:
The poems by participants: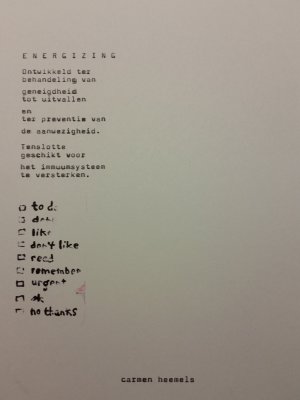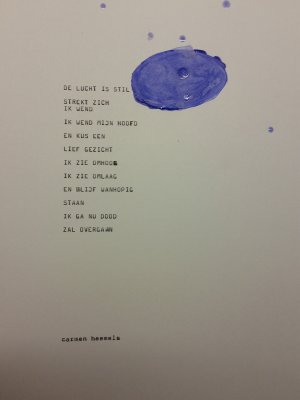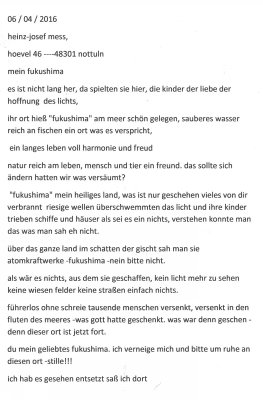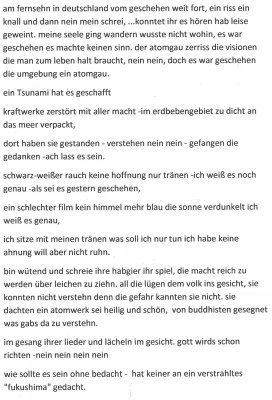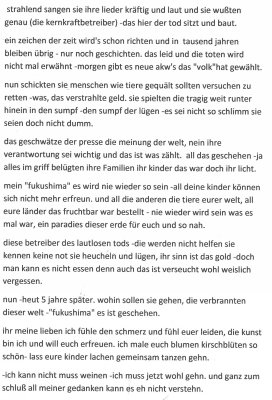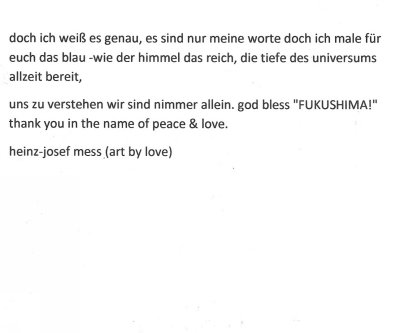 Human and Augmentation (2015 - 2016)
biological values by itself...
Conceptions of variation by the
and outside of conscious.
Gagyoshi writing expression and variation in three
Vroegtijdig verscheurd
Ik hoop dat je nooit
Voelt
Hoe haar ziel lijdt
Nooit meer zijn haar ogen droog
Nooit meer lente
Zomer
Herfst voorgoed voorbij
Nooit meer winter
Het offer
Haar lichaam stil
Hoofd leeg
Haar hart zo koud
Deining woest en golvenhoog
Nu
Ik smeek je
Hoor haar
Tot troost haar vinden zal
Alsjeblief
Blijf
Carmen Heemels
Een gedicht
Zonder mens
Wat is de aarde prachtig!
Wat een schoonheid is
Moeder Natuur!
De zee
De bossen
Wonderschoon is het!
Volmaakt
en nooit
af.
Zo prachtig
zonder de mens
om dit alles te zien
Zonder de mens
om dit alles te
besmeuren
Zonder de mens
om dit alles te
vernietigen
is Moeder Aarde
prachtig!
Maar de mens
bestaat.
Petra Pelser-Fenijn
een falende overheid bij de kernramp
als gevolg van een tsunami?
het overlijden als gevolg van een arrestatie?
het aantal doden als gevolg van een aanslag
een oorlog tussen volkeren?
de oneerlijke verdeling tussen arm en rijk?
THE GHOST
I HAVE
BECOME
I AM
THE PAST
YOU ARE
THE FUTURE
TOGETHER
WE ARE
FOREVER
Ed Hanssen