HHAP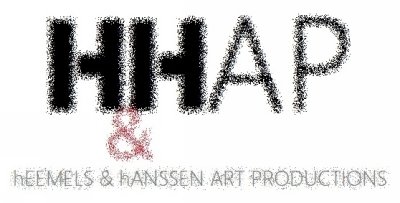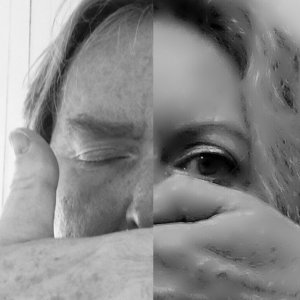 HHAP is the name under which we, as an artist duo, work on artworks and projects.
Both in and outside.
Both nationally and internationally.
Heemels & Hanssen Art Productions
Carmen Heemels & Ed Hanssen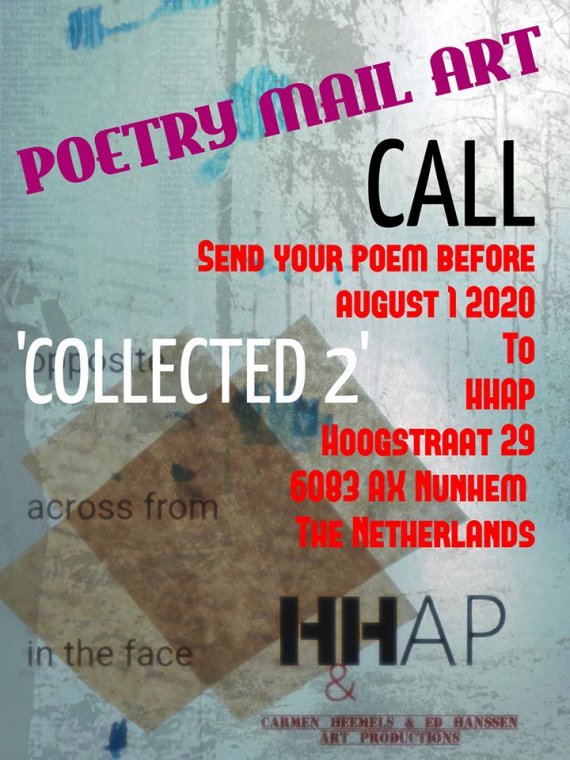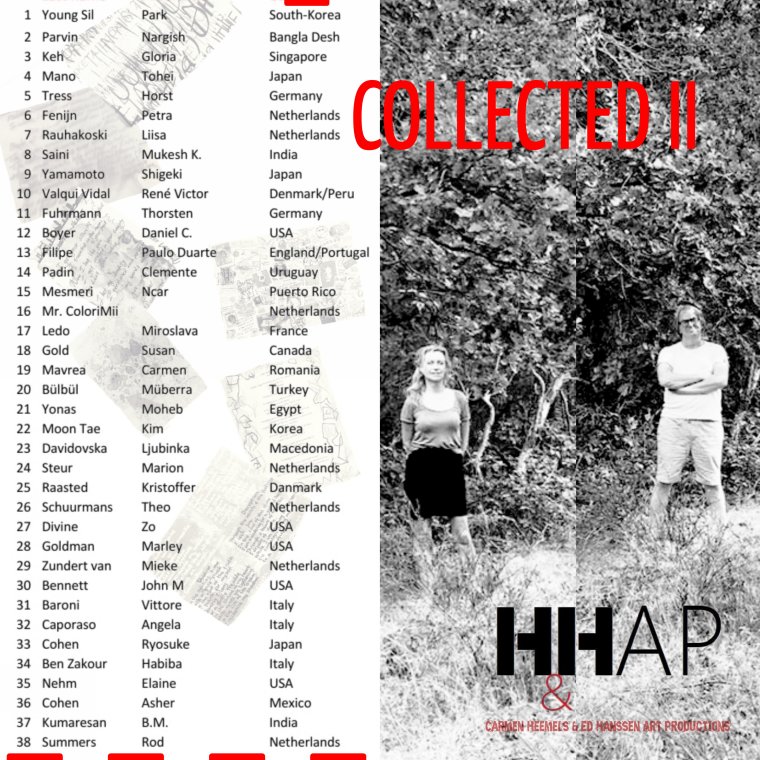 - exhibition Artquacke3, Istanbul, Turkey
- video, book, performance: II 2020
- video, book, performance: Collected, 2019
- photo: Distance Vision, 2019
- video: The rain knows, 2019
- video: The road we take, 2019
- video: The wind - the corn - the feeling, 2019
– expo: Across the river – Azit Gallery, Korea, 2019
– film: Left hand Georges, 2018/2019
– expo: Copy/paste, Herkenrode, Belgi๋, 2018
– expo: Nightvision – BYOB, ODA park, Venray, 2018
– film: I, Captain Yoo, 2018
– jury: expo Human and environnement, festival & exhibition Dezful Khuzestan, Iran, 2018
– expo: Selfportrait Drawing Community at KunstSalon, 2018
– video: Oxygen, 2018
– video: Youmesea/Meyousea, 2017
– foto: Youmesea/Meyousea – Bergen aan Zee, 2017
– expo: Droomreis, Hillegom, 2016
– boek: 13:00 hrs, 2015/2016
– video: Just making waves 2x, 2015
– video: Mijn Maas, mijn Maas, 2013
– gedichten: Mijn Maas, mijn Maas, 2013
CALL FOR ARTISTS
The first HHAP call is a fact!
HHAP goes poetry.
Artist are requested to send in their own poetry. HHAP will read them in the Leudalwoods, the Netherlands and all will be filmed.
Poetry in English, Dutch and German or translated into one of these languages are welcome.
Send your poetry before 24 august 2019 to carmenheemels23@gmail.com and edhanssen@gmail.com.
The reading will be at 25 august 2019.
Join in!